Fear, frustration, heartache. But...
Never acceptance.
She's making new friends,
Fending off her depression;
For me: jealousy.
Internalizing:
Countless feelings tucked away,
My heart, a black hole.
But wait! The Mayo?
Experimental treatment?
Sparking a glimmer.
This week's theme for Sensational Haiku Wednesday is
"Reaction"
.
The range of reactions I have felt, even as an outsider, surprises me at times. I can't imagine what my sister is feeling; I think she, too, internalizes. But, I'm sure if I were to take what I feel and amplify it quite a bit, I'd probably only have a small fraction of an idea.
If Gina is accepted into the Mayo Clinic's treatment program, I will post more details on it. I'll probably still blog about it if she isn't accepted, but with fewer details and more whines.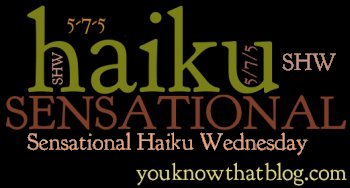 PS--I quadruple checked my syllable count, but if I'm still off please let me know!!